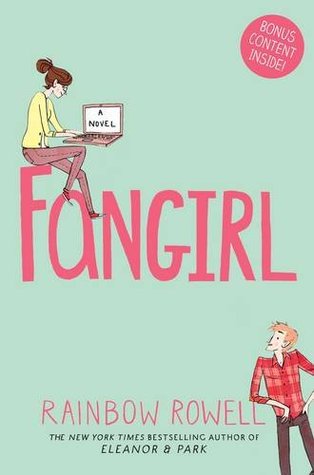 I mentioned a few weeks ago that I didn't really enjoy Fangirl. I know, what a terrible bookworm I am!
FANGIRL by Rainbow Rowell,
contemporary YA.
Cath and Wren are identical twins, and until recently they did absolutely everything together. Now they're off to university and Wren's decided she doesn't want to be one half of a pair any more - she wants to dance, meet boys, go to parties and let loose. It's not so easy for Cath. She's horribly shy and has always buried herself in the fan fiction she writes, where she always knows exactly what to say and can write a romance far more intense than anything she's experienced in real life.
Now Cath has to decide whether she's ready to open her heart to new people and new experiences, and she's realizing that there's more to learn about love than she ever thought possible ...
I enjoyed:
I understood Cath, I really did. I kind of am Cath. Her social anxieties were so well described, I decided I was going to read the book in one sitting (I did). I understood not wanting to go to the
cafeteria
by herself. I understood not wanting to share a room with a stranger. I understood that writing was her escape.
I also thought Levi was quite well written. I thought he was a player, and very confused about what he wanted, but I think people like him are around. The same with Reagan, Cath's room mate. I liked that she was short with Cath, but also caring. I know people like that.
Wren and Cath's dad was well written, and I could see how Cath had ended up like she was. Nick, the boy in Cath's writing class was a mystery, and we never really find much out about him, and that didn't bother me until he suddenly turned up again.
The
relationships
in this book were very well written. Wren and Cath, Levi and Cath, Reagan and Levi, Cath and her dad. Cath and Nick. I thought that they were very realistic.
I did not enjoy:
Simon Snow. The extracts were pointless and boring. I thought that they were very badly written. The worst part of all of it must have been when Levi compares Simon Snow and Harry Potter. It made me want to scream, because Simon Snow was a bad rip off of Harry Potter.
Also, I am not a fangirl, but I was under the impression that fans don't just write fan fiction, they talk on forums, and most of them have a Tumblr. However, none of this was really mentioned. It was just about what Cath does for the fandom. When she turns a
piece
of fan fiction and is told its
plagiarism
, I was like, well, duh, and I couldn't understand why she was upset.
It is never really said how far they go, but I feel like Levi forces Cath to become very physical in their relationship. I couldn't understand what he saw in her, so I wondered if he was just there for her body. It made me want to scream at Cath for not standing up and saying 'I'm not comfortable, so we stop because you understand that or I walk.'
What was the point of Nick? Yes, him and Cath write well together, and he takes an interest in her. However, at the end, when Cath refuses to put her name on a
piece
they did together, meaning it cannot be published, I was quite angry. Why did she say no? What was the point? It just made her look bitter and cruel. I felt like she had a taste of power, and was abusing it.
In Conclusion:
This is not a book about fangirls, or a fandom. This is a coming of age. It raises some good questions, but in the end, I think Rowell has more of a talent for creating realistic characters than a good plot. I have a soft spot for character driven novels, so I gave FANGIRL 3 stars.